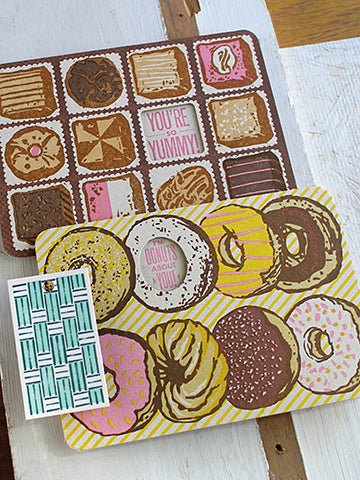 SugarBombs
SugarBombs (Gift Pack 4) - Includes:
1 Box of Chocolates Card - Fine chocolates, perfectly arranged, and letterpress printed onto 100% recycled paper. This folded card opens to say, " You're So Yummy!"
1 Box of Donuts Card - Soft, warm, sugar bombs; pick your favorites! Letterpress printed on 100% recycled paper. Opens to say, "I'm Donuts About You!"
1 Deco Gift Tag - Blue basket-weave pattern, letterpress printed on extra thick white cardstock. Comes with string and looks great on any gift. 
Ships flat via USPS w/tracking. Local? Call for curbside pick-up (314)479-0483.